"Laughter is timeless. Imagination has no age. Dreams are forever." – Tinkerbell
Making and decorating cupcakes is one of my favourite hobby's (planning is my other and you can check that out here)! I started making them for my family and friends back when I was in high school, to get my mind off of the stresses of school. I was really having a hard time controlling my anxiety and my doctor told me that I needed a hobby. How I made the jump from 'find a hobby' to 'let's make cupcakes' I will never know but it was definitely love at first swirl! (Fun fact though, I actually hate making the cupcake itself, if I could, I would serve just the toppers)!
One of my closest friends was having a Tinkerbell themed party for her daughter's first birthday and she asked me to make the cupcakes. Of course I went all out and they were a huge hit!
In my opinion, creating the perfect cupcake really starts at creating the perfect table design. I always want to make sure that everything is balanced. What I mean by that is that everything flows well together; not too many tall cupcakes vs low cupcakes, are the cupcakes going to be on stands, plates, or both? If so, which cupcakes will fit on the stands and which will be on plates, and the list goes on and on. So, my goal is to create something that is easy on the eyes, easily accessible, yet appealing to every guest. So, I like to look at the overall picture and work my way backwards; from the setting, to the colours, to the toppers.
Before anything, I like to get an idea of what the vision is, how much room we have and how many cupcakes need to be made. Creating a well balanced table is the perfect ensemble for showcasing your masterpieces. Personally, I am not a huge fan when all the cupcakes look the same, I do prefer when table has a bit more depth. So, here are a few of my tips to make the perfect cupcake table for your next event…
Now, this is where the fun begins… Depending on how many cupcakes I need to make, I normally like to design 3-5 different toppers. I love having 2 'showstoppers' and 3 'accent' cupcakes. The 'showstoppers' are normally the main event; highly detailed, take about a week to make, and are always a crowd pleaser (truly my favourite to make). Where as, the accent cupcakes are normally more minimalistic, allowing me to focus on bringing all colours together (don't let these beauties fool you though, they are just as important in giving that overall balanced look to the table).
So for this Tinkerbell party, I knew Tink herself had to make an appearance, pixie dust and all! So this is what I came up with for the design…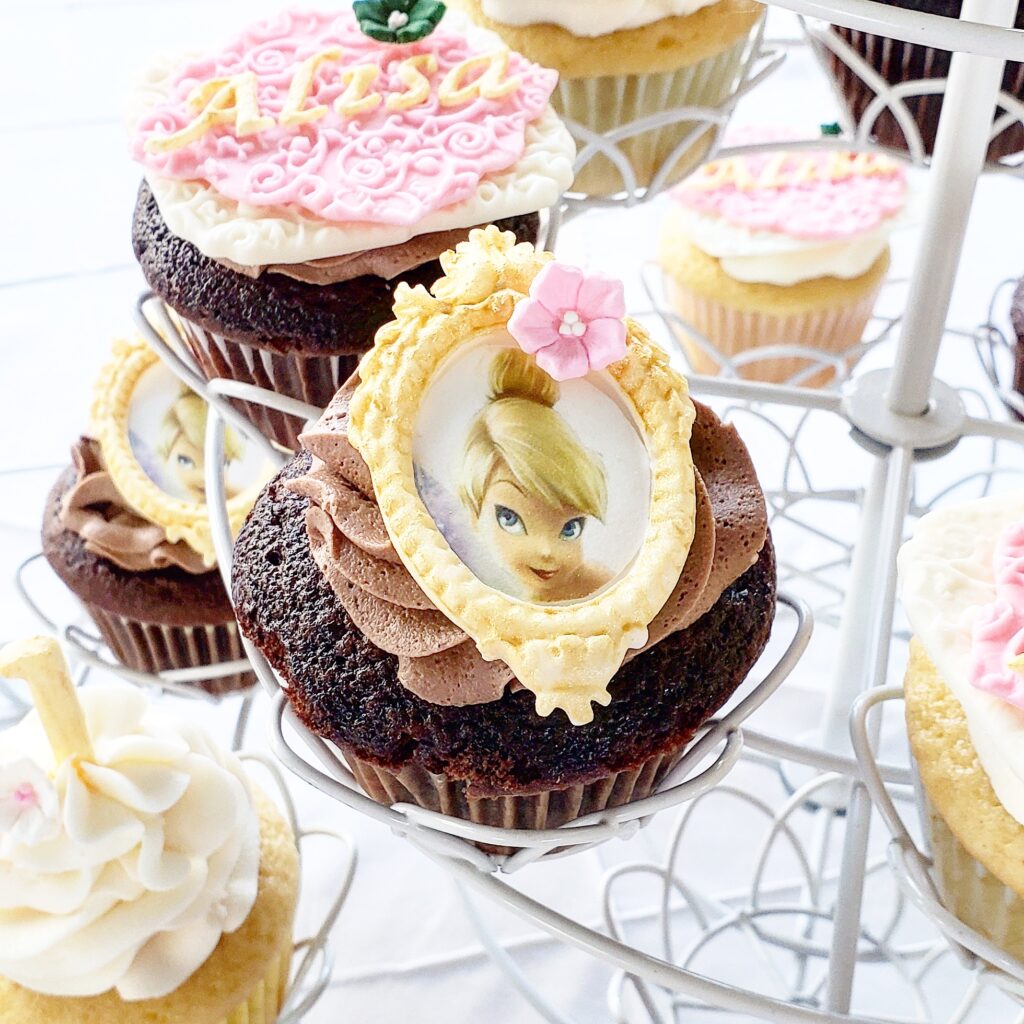 I like to try and make the cupcakes as cohesive as possible. To do this, I love adding floral icing accents to the cupcakes. To save some time, Wilton makes a variety of ones that I like to use and I simply paint over them in the colours that coincide with the event. It is quick, easy, and adds the perfect final touch.
Now for my accent cupcakes, my favourite thing to do is make the birthday girl feel even MORE special! So, I love creating a personalized topper that matches her theme. For this event, I chose to create a lace plaque with her name on it. To do that, I rolled 2 different fondant colours over a lace impression mat and and cut them out using my favourite 2 inch cookie cutters (any cutter you have will work). I layered the plaques on top of each other with a little edible glue (or a dollop of buttercream), to give this simple design a bit more depth. To finish the look, I wrote her name using Script Alphabet tappits, and I absolutely love how it turned out!
For my final set of accent cupcakes, I was looking for something simple, yet elegant. A simple 2D swirl with some coloured accents is always my go-to. I use it for every event because it's quick, easy, and always a favourite for those like me, who love the icing more than the cupcake! For this event, I chose to use some left over glitter Tinkberbell silhouette straws we had left over, and honestly, they ended up being my favourite! For my last cupcake, I chose to create a number cupcake using the Wilton number mold, and finished it off with some of Tinkerbell's trailing flowers.
Having the cupcakes at different heights gave me complete freedom to create the simple table we were looking for. It was perfect way to display all the cupcakes lined up on simple white plates and tired stands.
I hope this inspires you to create a simple, yet amazing dessert table to at your next event! Let me know which is your favourite and tag me so I can see all of your masterpieces!