I don't know what it is but I have been having a lot of 'comfort food' cravings lately. I don't know if it is the weather or that I am slowing starting to move around a bit more, but it has been terrible. So bad, that I had to make a double batch of these beauties the other day just to help me out! These muffins have been my favourite go to snack lately because the chocolatey goodness has done wonders for my sweet tooth. The other day, I even melted a teaspoon of peanut butter, drizzled it on top, and gosh was it heavenly. They are so moist and delicious, and freeze well too. I love warming it up and pairing it with my afternoon tea (if your looking for a soothing afternoon tea here is my favourite little helper…just don't let the jasmine fool you, you can't even taste it)!
I think what I love most about these muffins (other than the fact that they are super easy to make) is how extremely customizable they are! As most of you know from my previous posts, I was diagnosed with Celiac Disease about 6 years ago, and have been living a gluten free lifestyle ever since. It definitely has become easier over the past few years, since the gluten free diet has become some sort of a 'trend' these days. But continuously looking for gluten free recipes made baking unpleasant and difficult (as I had become the Queen of Pinterest Fails). So I focused on customizing recipes rather than finding recipes, and that has be has been instrumental in navigating this gluten free lifestyle. It calmed my anxiety and made me feel somewhat 'normal' again in the kitchen.
After years of trial and error, I finally found what works and what doesn't, especially in the GF flour department (which we all know is the driver of the 'GF Struggle Bus'…my favourite here). It brings adventure back in to the kitchen and tickles my creative side! So if you like this recipe but there are certain things that don't quite work for you, feel free to do the same! For instance; if you are not following a GF lifestyle, substitute gluten free flour for regular self-rising flour, or the zero calorie sweetener for regular sugar. Whatever the case may be, these are delicious and everyone should enjoy them!
I have mentioned a few of my favourite myWW snacks before and these are definitely one of them! A lot of you have been loving my recipes lately and have requested that I make a recipe card that is easy to print and save for later! So here it is!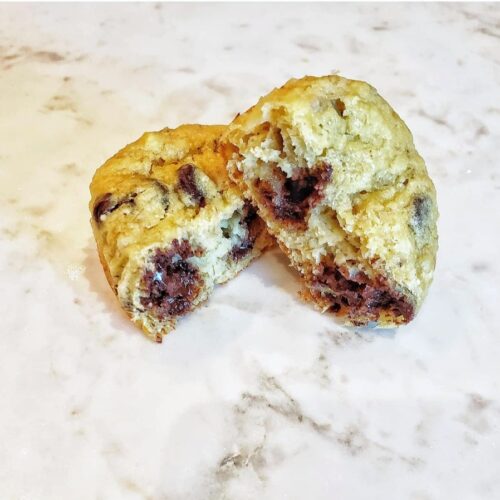 Gluten Free Banana Chocolate Chip Muffins
Ingredients
3

ripe

bananas

3

eggs

1

tsp

vanilla extract

1

tsp

baking powder

3

tbsp

zero calorie granulated sweetener

1

pinch

salt

1

cup

gluten free flour

1/4

cup

Stevia Sweetened Chocolate Chips
Instructions
In a mixing bowl, blend together the bananas, eggs, vanilla extract, baking powder, sweetener, and salt.

In a seperate bowl, mix flour and an additional 1 tsp of baking powder and mix until combine.

One combined, divide evenly into 12 muffins

Bake at 375 for 18-20 minutes
Notes
These muffins freeze very well making them perfect for a weekly meal prep's. I love warming them up before I eat them allowing the chocolate to melt. 
myWW green plan smartpoints – 2 using myWW recipe builder
I hope you enjoy these as much as I do, and let me know in the comments down below what you think!