When I first joined weight watchers, the first thing I did was convert all of my favourite foods into more point-friendly options, and that included anything that had to do with pizza and bread. The more I researched recipes and found YouTuber's I loved (Amanda Cypert is my favourite, especially for these bagel bites) the more I kept seeing recipes using '2 Ingredient Dough'; which is 1 cup self rising flour mixed with 1 cup non-fat greek yogurt. I really wanted to see what all the fuss was about but I was having the hardest time finding a good gluten free self-rising blend. So, as always, I decided to make my own.
For the past few months, I have been playing around with a few different recipes and different gluten free flour blends, and I finally came up with the perfect recipe! The key to making the perfect gluten free self rising dough, is finding a balanced flour blend. I find that when the flour is not balanced it does not hold together when kneading or rise in the oven, and falls apart when you eat it (for anyone who has tried gluten free items, you know what I mean)! As I mentioned in my previous post, I have tried so many blends but the best on the market, in my opinion, is Better Batter (it is so hard to find as they don't sell it at my local grocery stores, so when you see it, snag it)!
This gluten free, 2 ingredient dough is a staple in my weekly meal prep as I make a double batch every week! I always set aside half to make pizza with throughout the week and the other to make my favourite Everything Bagel bites.
So here is my favourite recipe for making myWW 2 Ingredient, gluten free self-rising dough (well isn't that a mouth full)!
Gluten Free Self Rising Flour
In a mixing bowl, add 1 cup of Better Batter gluten free flour (I like to set aside a little of that so I can flour the surface when I knead the dough, that way I don't have to account for any addition points)
A little less that 1 cup of non-fat greek yogurt
1/2 teaspoon of salt
1 1/2 teaspoons of baking powder
Mix with a hand mixer
For savoury dishes, like pizza or my everything bagel bites, I like to add one heaping teaspoon of garlic powder and it makes all the difference!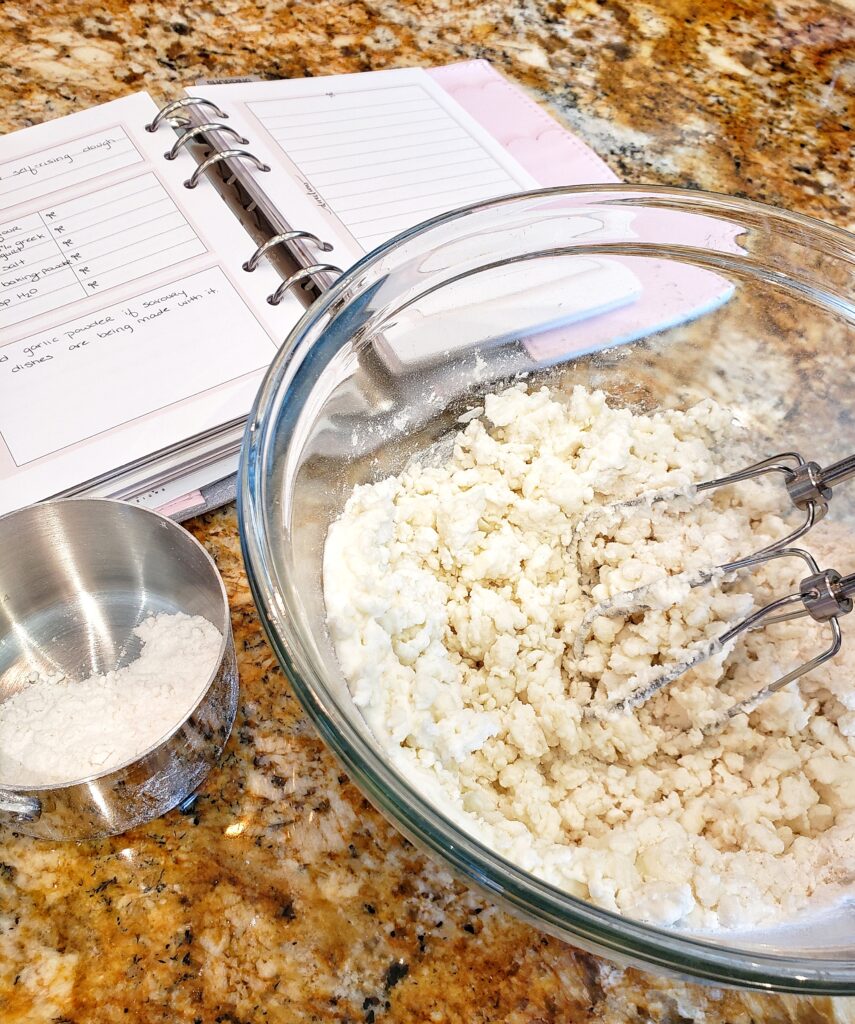 When the dough begins to look a bit crumbly, slowly begin to add in 2 tablespoons of warm water while mixing.
Using some of the flour that you set aside, lightly dust your work surface, and kneed the dough until it is combined and no longer wet.
Now you are all set and ready to make whatever recipe your heart desires! Today, we are going to make my favourite Everything Bagel bites.
Gluten Free Everything Bagel Bites
a little side note: feel free to customize this recipe to fit your dietary needs. For instance, if you are not gluten free, feel free to use regular flour, or if you are on the Keto diet, substitute the non-fat greek yogurt with full-fat greek yogurt. Either way, this recipe is definitely worth trying!
Preheat oven to 350 degrees.
Evenly divide the dough into 8 equal pieces and set aside. Continue to dust your work surface, as needed, with the flour you originally set aside. Take 1 of the pieces and flatten it out like a pancake.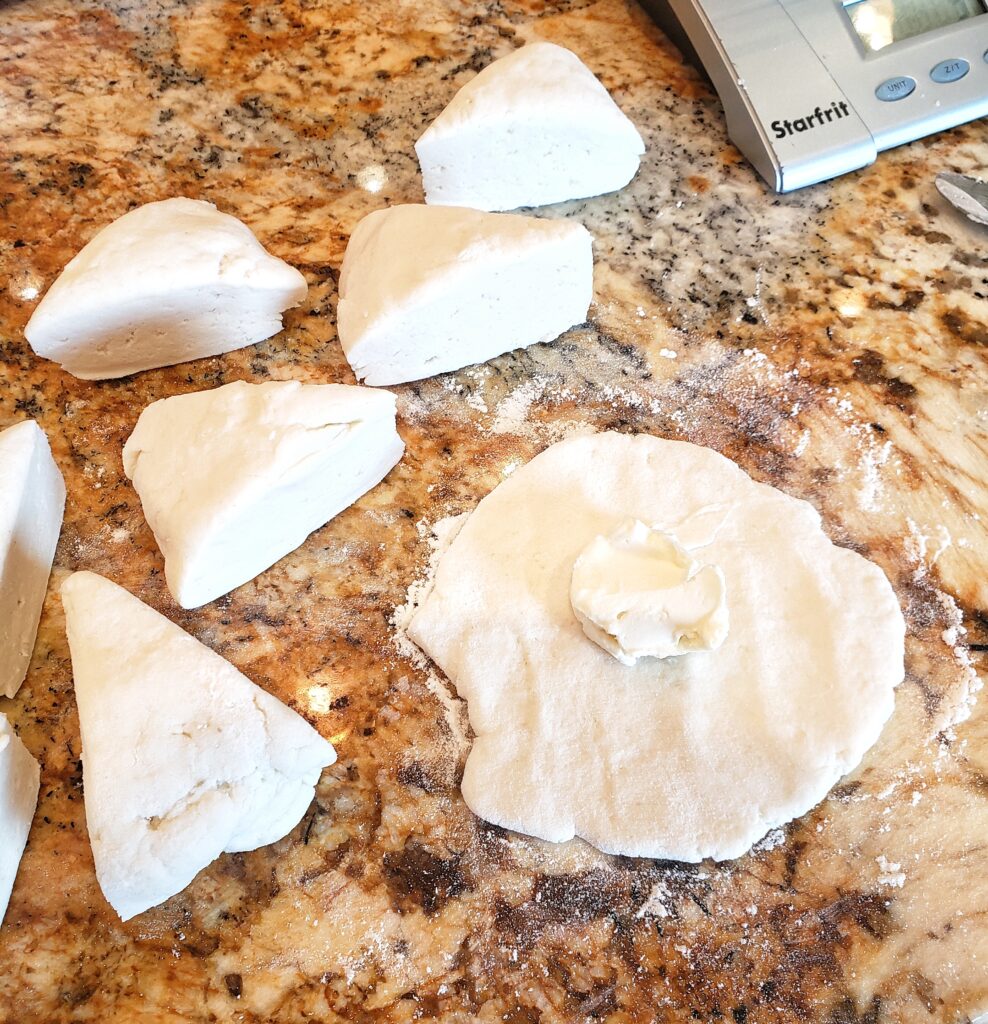 Fill the centre of the dough with 1/2 tablespoon (7 grams) of low-fat cream cheese.
Seal up the dough around the cream cheese and roll into a ball, making sure all the edges are closed. Continue to do this with the remaining 7 pieces.
Once complete, lay them out onto a baking sheet and spray the top of each bite with cooking spray. Sprinkle the tops with everything bagel seasonings or your favourite bagel seasonings (next I am going to try cinnamon sugar… just the thought is taking me down memory lane to my undergrad days and my love for Einstein Bros. Bagels)! Bake for 15-17 minutes.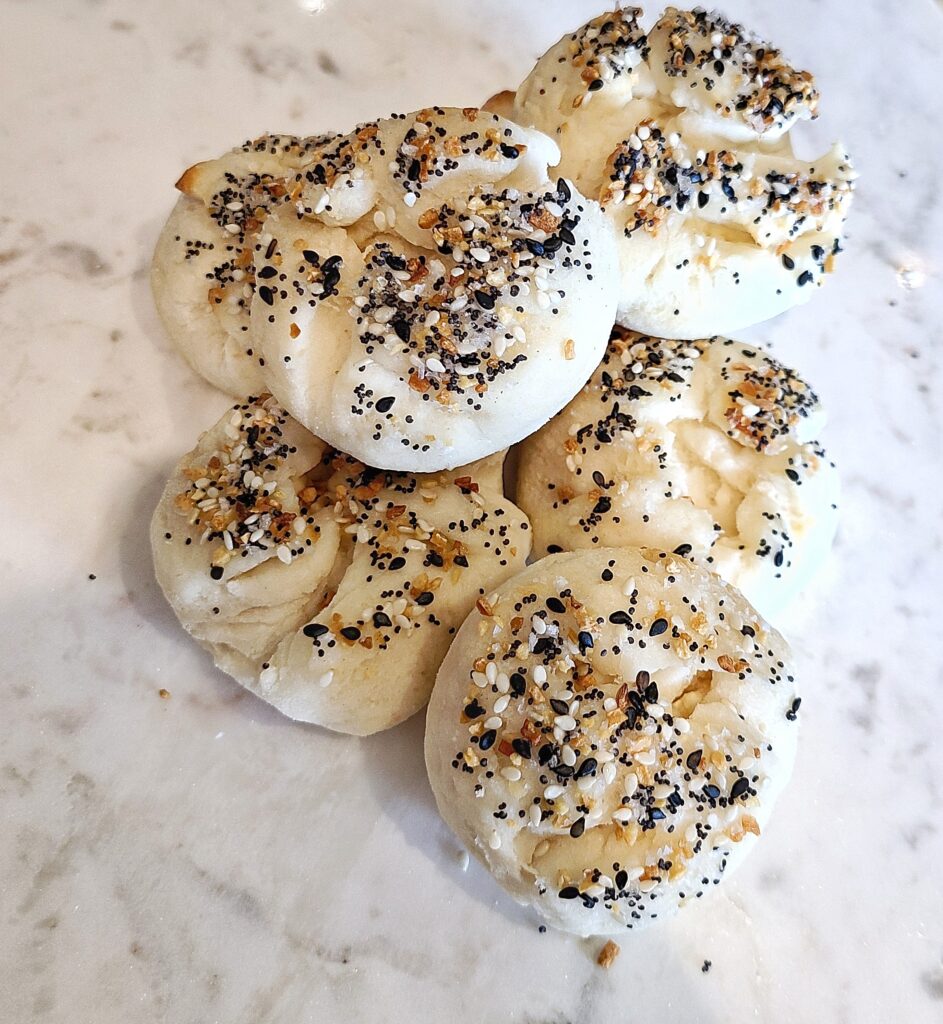 Servings: 8
Serving Size: 1
2 smartpoints per serving
This is one of my favourite 2 ingredient dough recipes to make and it is always a huge hit! I meal prep these every week, pair it with a hardboiled egg and piece of fruit for my 9am snack. It is so delicious and I think adding the garlic powder is what sends it over the top!
Let me know what you think and what you are making with this dough. I love it so much, I will try anything!
This post is not sponsored and the smartpoints are calculated using myWW recipe builder, specifically for green plan