It has been a crazy week this week and when that happens I tend to dip back into my old, bad habits and emotionally eat. So before I let myself do that, I made my favourite comfort food into a point-friendly dish! Pasta is one of my favourite dishes (next to pizza that is), so I went on the hunt for the perfect gnocchi dish! I came across a few different recipes and decided to use them as a starting point and add my own little flare to it. My favourite ingredients to add to any pasta dish are mushrooms and spinach (and truffles but that will be for a different day) but if either of these don't tickle your fancy, feel free to substitute your favourite veggies into the dish! Either way it will be delicious, I promise you!
Ingredients
1 small onion; chopped
3 cloves of garlic; pressed
1 package of sauté mushrooms; chopped
1 teaspoon avocado oil
1 tablespoon Italian seasoning
28 oz can of diced tomatoes
2 cups of spinach
1/2 cup mozzarella
salt and pepper to taste
Preheat the oven to 425
On the stove top, begin by heating a large pan over medium heat. While heating, chop the mushrooms and onions to your desired size. Once chopped, add the onions and garlic into the pan and sauté in avocado oil until translucent. Once fragrant, add in the mushrooms, Italian seasonings, salt, and pepper, and stir together to combine.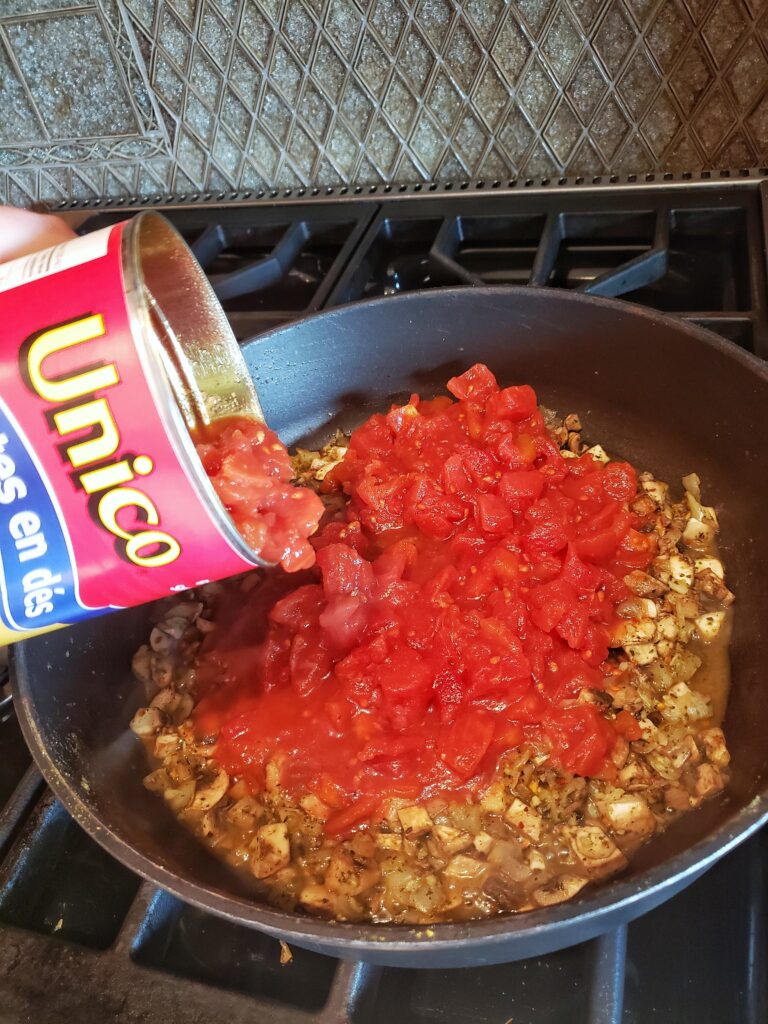 Pour in 28 oz can of diced tomatoes and allow to simmer so all the flavours can combine
Next, slowly add in the spinach and cook until wilted. Now add in a 17 oz. package of the gnocchi of your choice (this is a great gluten free one that I enjoy).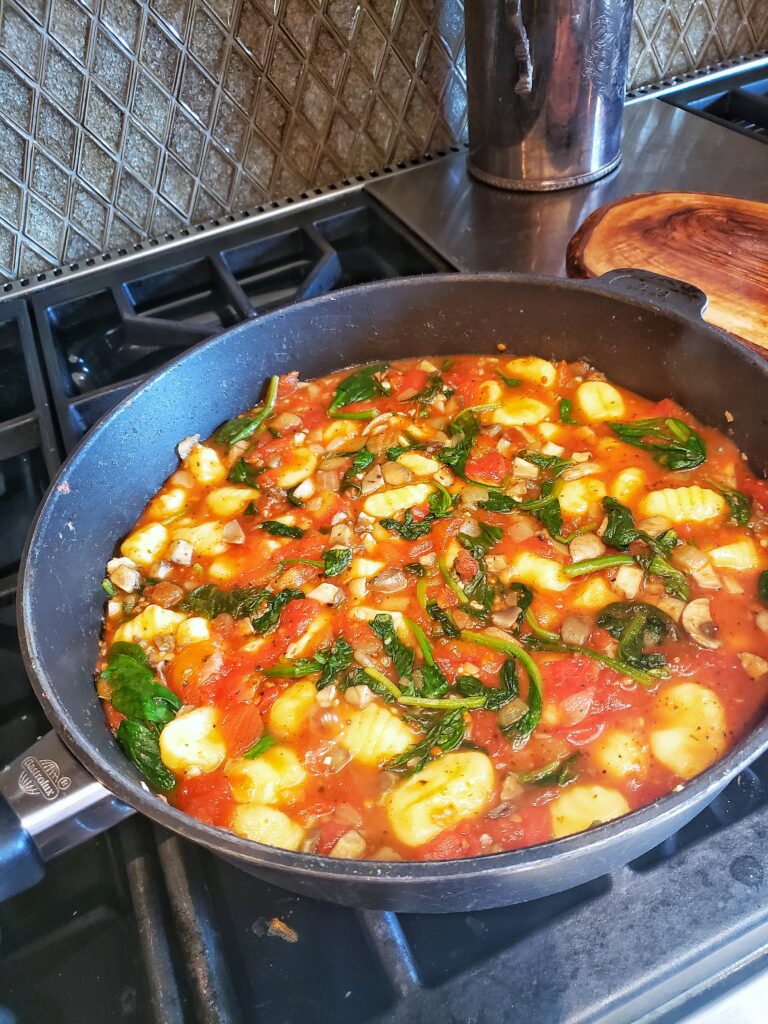 Place the gnocchi evenly throughout the pan and allow to simmer for 3-4 minutes
Once simmered, pour into an oven safe dish (or keep in the pan if it is oven safe).
Because we will be baking the gnocchi, it is important to make sure that the gnocchi are underneath the liquid so they are able to fully cook.
Evenly sprinkle the mozzarella cheese on top of the dish and bake in the oven for 27 – 30 minutes or to your desired tenderness. (If you are making this as a meal prep, I like to slightly undercook the gnocchi so when I reheat it, the gnocchi will finish cooking then, without being over cooked). Once out of the oven, divide into 6 equal servings and enjoy!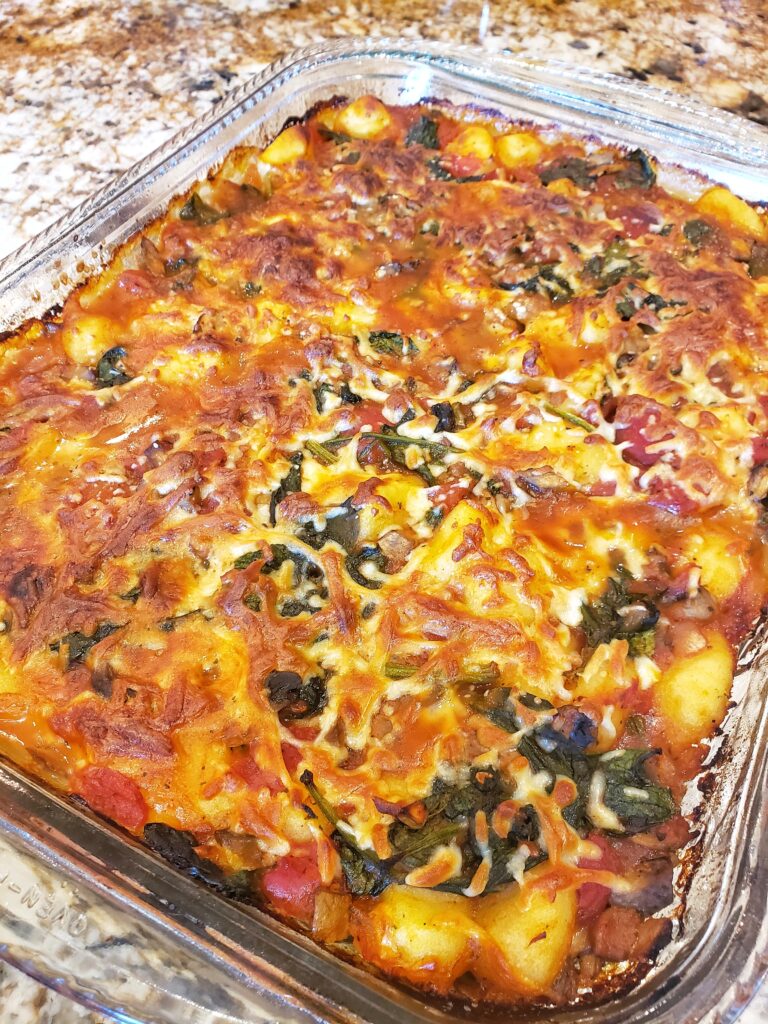 Servings: 6
Serving Size: 1
5 smartpoints per serving
I cannot tell you how many times I make this dish! It has quickly become one of my favourites. Not only is it delish, but it is very filling without being too high in points! I normally prep this for lunch with a side of steamed broccoli; it fills me up and cuts all my afternoon cravings!
Remember that this can be completely customized to fit your dietary needs or add in whatever veggies you enjoy! Either way, I hope you love it as much as I do and let me know in the comments below how you made this dish perfect for you!
This is not sponsored and the smartpoints were calculated using the myWW recipe builder specifically for the green plan.